"If you love something, it will work. That's the only real rule." ~ Bunny Williams
It's time for spring cleaning and redecorating so I picked up a ton of prims and started setting some new ones down. Cory Edo has a new living room set a Fameshed that is perfect for redecorating, including sofa, chair, artwork, tables and lamp and several choices of blanket chest. The sofa and chair include color change for the upholstery and texture change for the optional pillows and quilt. The chest has the same texture change for the blanket. I spent a good hour clicking colors in and out, prepared to surprise Mr. Beresford when he got home, especially after I decorated with Cory's artwork and wood wall art and Kunst Himmel's rug and custom-colored Max Graf's mesh curtains. I knew he would be so surprised!
I put on a pretty dress from Vitamingirl from Shiny Shabby that comes in several looks, all gorgeously ethnic with embroidery and a lovely cotton top detailed with buttons and lops. I also custom-colored my sandals from TeamRedgrave with their great HUD. Pretty jewelry from Plurabelle Laszlo added the finishing touch to my look.
Truth Hawks' newest 'do added a touch of casual elegance to my look, especially with Sawsan Secretspy's latest skin for Designer Circle. She has recently introduced a V2 skin tone to her appliers, so make sure you apply the right one with these new skins. Soleil Reid's eyes are heart-breakingly beautiful with this look.
Mr. Beresford was, indeed, thrilled with the redecorating (and my look), but he asked if he could add a piece or two of his own. He said he had found something at Fameshed that would fit in perfectly and add his own touch of manliness to the decorating. I had given him permissions over my things, and I had to run, so I left him in charge. I was relieved to see in my email he had only sent back one chair. I was looking forward to see what he had done when I logged in later. His IM in email said, "I finished my decorating. I think the color matches perfectly so you'll be happy, honey."
I was pretty excited to see what he had done when I was able to log in. Mr. Beresford indeed added a touch of manliness. Wavie Haller's Comfy Chair, a recliner fit for a man cave, had taken place of my sent-back chair. Sigh.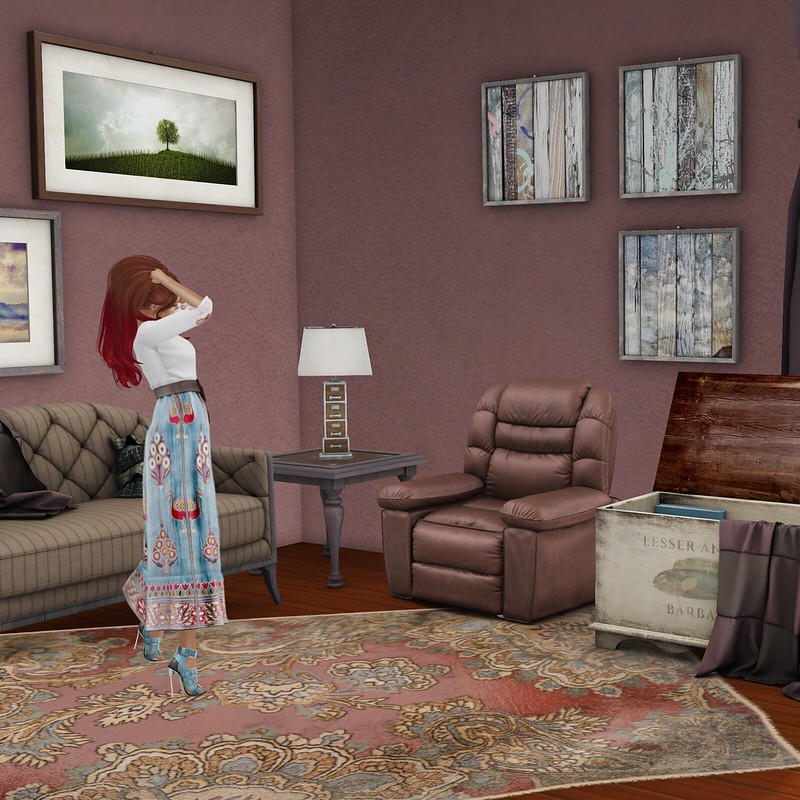 Hair: TRUTH HAIR Willa by Truth Hawks for >TRUTH< *
Skin: .::WoW Skins::: V2 Enya Golden Designer Circle by sawsan Secretspy for .::WoW skins::., available at Designer Circle *
Eyes: {D.A} – Marble – Deep by Soleil Reid for Dead Apples
Body: Maitreya Mesh Body – Lara V3.0 by Onyx LeShelle for Maitreya
Dress: B.C.C Good Feeling Long Dress Mix by vitamingirl for B.C.C, available at Shiny Shabby *
Jewelry: Bliensen + MaiTai – Yesterday – Coral – Necklace and Earrings by Plurabelle Laszlo for.Bliensen + MaiTai *
Feet: Slink Avatar Enhancement Feet High V2.1 by Siddean Munro for Slink
Shoes: Raven Sandals – REDGRAVE by TeamRedgrave for Redgrave
Poses by Dove Swanson for Long Awkward Pose (no longer available)
Furnishings: Trompe Loeil – Enfield Living Room Set PG [mesh] by Cory Edo for Trompe Loeil, available at Fameshed *
Trompe Loeil – Enfield Chair PG
Trompe Loeil – Enfield Trunk Open Barbados
Trompe Loeil – Enfield Wall Art Wood 1
Trompe Loeil – Enfield Wall Art Wood 2
Trompe Loeil – Enfield Wall Art Wood 3
Trompe Loeil – Enfield Chair PG
Trompe Loeil – Enfield Table Square
Trompe Loeil – Enfield Couch + Blanket/Pillow PG
Trompe Loeil – Enfield Table Round
Trompe Loeil – Enfield Wall Art Sunrise
Trompe Loeil – Enfield Wall Art Tree
[ kunst ] – Boho carpet #2 by Kunst Himmel for [kunst], available at Shiny Shabby *
Rustica – Mesh Drape GATHER PANELS by Maxwell Graf for Rustica * (modified)
Punchline: [Con.] Comfy Chair – PG – Brown by Wavie Haller for Consignment, available at Fameshed *